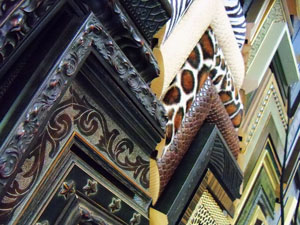 HOW LONG DOES CUSTOM FRAMING TAKE?
Our normal delivery is two weeks. You tell us when you want your work; we'll do all that we can to meet your deadline.
I'M NOT SURE WHAT WOULD LOOK RIGHT IN MY HOME OR OFFICE. WOULD YOU COME AND LOOK AT THE LOCATION?
Certainly! On-site appointments may be scheduled with any of our designers.
I HAVE A LARGE MIRROR OR PICTURE THAT I CAN'T HANG. DO YOU HAVE SOMEONE WHO COULD DO THAT?
Yes, we can schedule installation appointments. If your piece exceeds our abilities, we can refer you to other excellent installers.
HOW MUCH WILL IT COST TO FRAME MY ART?
We need to see and measure your art and help you choose the framing materials. Then we can give you a specific quote.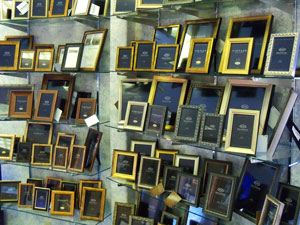 WHY IS CUSTOM FRAMING SO EXPENSIVE?
Because just about everything we make is done by hand and is one-of-a-kind. It is very labor intensive.
WHAT'S UPSTAIRS?
A new workroom that is a big, open area with four large work tables which can be used for frame repair and/or restoration, art restoration and touch-up, or building large or complicated shadow boxes.
WILL YOU FRAME A PICTURE FOR ME IF I BRING IN MY OWN FRAME?
Of course, please bring the frame with you when you come in so that we can be certain of the measurements.
THE GLASS IS BROKEN IN MY FRAME, WILL YOU REPLACE IT?
Absolutely, please bring the frame to the shop and be careful with the broken glass pieces. If you don't remove the glass yourself, just lay the frame flat in the car and we'll bring it in for you.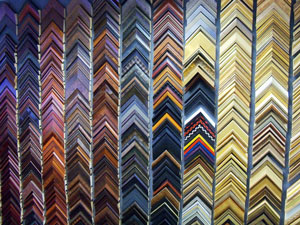 WHAT DOES C.P.F. MEAN?
Certified Picture Framer is a designation given to a picture framer upon passing a test that covers all aspects of picture framing.
HOW CAN I FIND OUT IF MY ART IS VALUABLE?
The most accurate way is to use the services of an Art Appraiser. We can refer you to a qualified appraiser. You might take your art to one of the local "art auction" houses. You could also check some of the art auction sites on the internet.
I'M LOOKING FOR A PRINT AND I DON'T HAVE MUCH INFORMATION ABOUT IT. CAN YOU HELP?
Probably! Generally we need a title, artist, or publisher. We'll be happy to help you search the internet.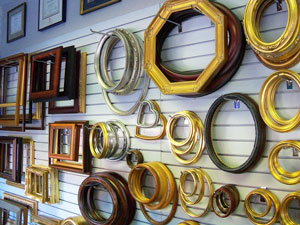 WHAT KIND OF GLASS SHOULD I CHOOSE?
Glass and acrylic are available in clear and non-reflective. They are also available with an ultraviolet coating that prevents fading. The best product on the market is Museum Glass, which is clear, filters UV, and has a coating that eliminates reflections. Our designers will help you make the best decision for your art.
WHEN SHOULD I CONSIDER USING ACRYLIC?
Acrylic is most often used on very large pieces of art where weight becomes a factor. We also recommend acrylic in public areas in hospitals and schools. Acrylic can be placed in direct contact with some art, especially textiles.
DO YOU RECOMMEND GLASS ON NEEDLEWORK?
We generally do not recommend glass on needlework unless there are smokers in the house, the work is hung in the kitchen or by a fireplace or where it might be touched, if the background is white or very light, or if it is a fragile antique piece. Glass must be spaced away from the needlework so moisture cannot condense inside the glass.
CAN YOU FRAME SOMETHING SO I CAN SEE BOTH SIDES?
We certainly can. You'll see some examples in the YOU FRAMED A WHAT? area. Frame moulding can be fit back-to-back if the object is to sit on a table. When hanging on the wall, we finish the back of the moulding. Special care is taken to space the glass properly and make allowances for the additional weight of two pieces of glass.
WHO WILL ACTUALLY DO THE WORK ON MY ART?
Our staff includes three Certified Picture Framers and three Master Certified Picture Framers. You'll see them at work in the WHO WE ARE area. They are craftsmen who care about your possessions as if they were their own. They take great pride in your pleasure and satisfaction. Almost all work is completed on our premises by our staff.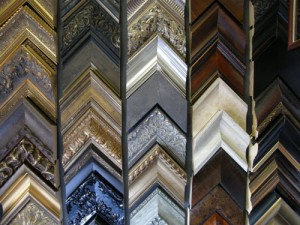 HOW LONG HAVE YOU BEEN IN BUSINESS?
Bradley's Art & Frame opened for business in 1970, and has remained family owned and operated.
WHAT IF I'M NOT HAPPY WITH THE FRAMING?
Seriously, Bradley's Art & Frame unconditionally guarantees our quality and your satisfaction. If you ever have a problem with a Bradley's frame, we expect you to let us know and give us the opportunity to please and satisfy you.
I WISH I COULD "SEE" WHAT MY FRAMING WILL LOOK LIKE.
We have a wonderful tool called Picture-it-First. It is a camera that photographs your artwork with our frame and mat corner samples on our counter. The image is then manipulated in the computer to show you "completed" framing on your art. We can try different frames and place the pictures side-by-side on the monitor.
HOW CAN I PUT A CAPTION OR TITLE ON THE PIECE YOU ARE FRAMING?
There are several ways. One is an engraved brass or silver plate. Another option is a computer printed caption inserted in a mat opening. We now have the ability to deboss titles or text captions onto paper mats; this is perfect for old photos that have a story to tell.
CAN YOU FRAME A QUILT?
Yes, quilts are framed using archival techniques, which include hand-stitching.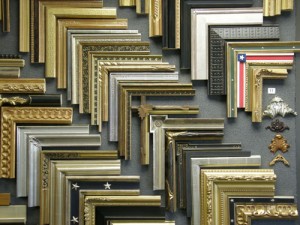 IS MY ART SAFE AT BRADLEY'S?
Yes, we take every precaution to protect your possessions. We do recommend that your personal items be listed and covered by your homeowners or renter's insurance.
WHAT IF I DON'T WANT TO LEAVE MY ART?
That's fine. Just bring it in; we'll choose materials and take the measurements. When everything is ready, you may bring the art back in for final assembly.
MY PHOTOGRAPHS GOT WET … CAN YOU HELP?
If possible, keep them wet. It's in the drying process that the emulsion will stick to album pages or glass. Put them in a freezer until you have time to work on them. If they dried and are stuck, sometimes they can be soaked loose, or they can be photographed through the glass and re-printed.