Bill Bradley, CPF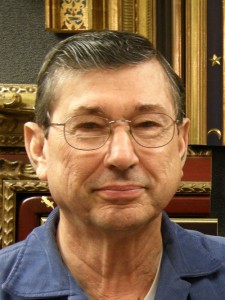 Bill, a native Houstonian, is a graduate of San Jacinto High School. He's been a private pilot since he was a teenager. In his spare time, Bill designs, builds, and flies electric model airplanes.
He developed the technique of embossing designs in fabric mats and backgrounds in the early 1980s. Today he continues to work on innovative designs with the use of CADD software on the computer.
Bill restores and repairs frames, including replacing broken ornaments on ornate frames. He also restores some art and photographs.
Bill and Aaron deliver and install art for our clients.
Bill along with wife, Pat, is the recipient of the Lifetime Achievement Award, the highest award given by the Professional Picture Framers Association. Sometimes known as the "engineering department," Bill is our problem solver.
Pat Bradley, CPF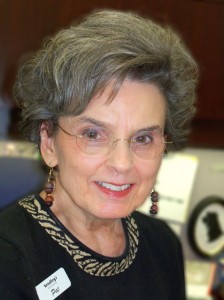 Pat was born in Chicago and graduated from Ray High School in Corpus Christi and attended the University of Houston. Her hobbies include the Astros, needlepoint, and reading. Besides Casey and Lily, Pat & Bill share their home with another dog and two more cats.
She is responsible for administration and marketing at Bradley's and has been writing the company newsletter since the mid-1970s. She is frequently at the front counter with clients, sharing over 40 years of experience.
Pat researched and developed many of the techniques used on framing textiles — needlework and clothing. She taught many workshops to other framers, sharing these techniques.
Pat served on the original Certification Committee that wrote the original CPF (Certified Picture Framer) test. She says it was "the best committee ever."
"We wrote 300 questions and all 10 committee members had to agree 100% on the correct answers. That's not easy!"
Pat and Bill received the Lifetime Achievement Award from PPFA in Anaheim, CA, in February 2010.
Lucy Quay, MCPF Sales Manager
Lucy, a Texas native and Spring Woods High School and HCC Business graduate, has been with Bradley's Art & Frame since 1993 and has been framing for a total of 24 years. She and husband, Gary, live in Conroe with two dogs and five cats.
Needless to say, Lucy is one of those blessed people who has found what she wants to do "when she grows up." She excels at creating one-of-a kind designs, viewing them as "inventions." Thinking outside the box comes naturally for her, and she has fun stacking mouldings, "tweaking" frame finishes, and simply doing things differently.
She believes that each and every piece you bring in deserves equal respect. If you bring it in, it's important to you and to us. She will select and recommend the perfect design for your special keepsakes and favorite pieces of art.
Lucy believes strongly that customer service is her first priority, and she looks for new ways to enhance your experience at Bradley's. Lucy considers continuing education vital and has achieved the highest certification in the Professional Picture Framers Association — Master Certified Picture Framer.
Rachel Townsend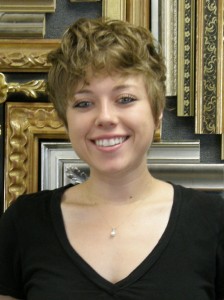 Rachel came to Bradley's in 2006 while still a student at Memorial High School. She wanted to help with the costs of an upcoming People-to-People trip to Europe. Rachel is attending Manhattanville College in White Plains, NY. She is studying International Studies.
Rachel has spent most of her time at Bradley's organizing and replacing frame corner samples as some are deleted and vendors send us boxes of new products. During the summer of 2010, she quickly learned to do Bradley's purchasing. Rachel now works with us at Christmastime and during the summers, when she is not traveling the world. Rachel excels at every project she is given.
Carmen Swanger, Sales/Designer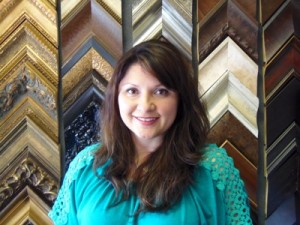 Carmen was born in Santiago, Chile, raised in New Orleans and later moved to Texas with her family. Most recently she lived in Scotland for two years where she fell in love with photography and framing. When she is not going on motorcycle rides in the countryside with her husband, she enjoys walking her two dogs, Bella and Livi.
She has a fantastic eye for design and personally favors rustic and ornate custom framing. Carmen is the newest edition to the Bradley's team and we are excited to watch her grow as a Designer.