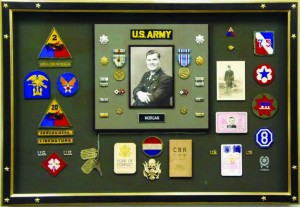 Display your family's military heirlooms!
Karen Attaway surprised her father this past Father's Day by presenting him with this grand tribute to his participation in WWII. The items included photos of Wade in uniform, his medals and various insignia showing the ranks he held in the Army, and the many Corps, Divisions and Units. There are several Armored Division patches with their colorful nick names.
Karen and Lucy chose a closed corner black frame with a yellow gold lip and back. We added 3 gold stars to each corner and extended the back of the frame to add depth. We floated the items over muted green linen and bordered the photo and raised center panel with a very dark brown fillet. Museum glass finished the piece off. Thanks Karen for the opportunity to be a part of this amazing tribute.