American Flag, C. 1918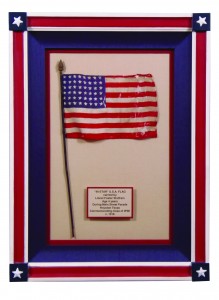 Bradley's was asked to showcase a "48 STAR" U.S.A. FLAG.
The flag was carried by a 4 year old boy during a parade in
Houston, Texas, commemorating the close of WWI. The
handmade closed corner frame is painted red, white and blue and includes a corner block with a white star. The close-up photo shows the depth needed for the silk covered liner, mat and linen covered background. The flag has been preserved to reduce future deterioration.