"From the Dog House" by Higgins (Shop Dog)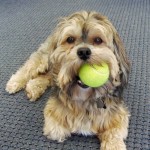 I have learned two new tricks: roll over and crawl. I figure they'll be handy when baseball season starts. I can roll over while sliding into home plate and crawl under a throw to second base. I know you take photos of your pets. Did you ever get a really great one that deserves framing? We can help with that. R/C and Murphy are remembered lovingly in their "dog house" picture frame. Baxter and Lily are elegantly posed in the sunshine with beautiful flowers. In most of my photos, I'm asleep in my bed…I wonder why? Anyway, it's been two years this week since Rachel rescued me in the parking lot. Thank you, Rachel. I've been working at the shop a little over a year; it's the best place to work. Every morning I pick up my leash and take myself into the garage to the car. Hey, that's another trick I know!
Frame your pet photos!